EDS — Electronic Data Systems Corporation
EDS was an information technology services company from 1962 to 2008. EDS founded the information technology services industry, and grew to a company of over 130,000 employees operating in 64 countries, producing an annual revenue of over US$20 billion.
EDS Electronic Data Systems Corporation [Web page]. Austin (TX): c2013 [revised 2013 Jul 28; cited 2023 Mar 22]. Available from: http://john.thywissen.org/eds.html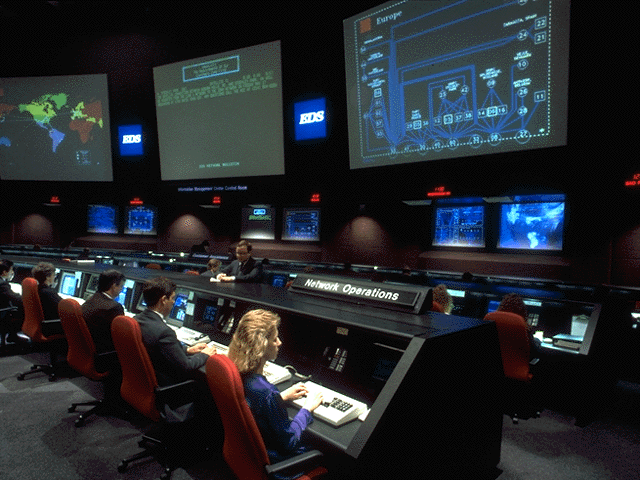 One of three global command centers. These centers monitored EDS and client networks, computers, and facilities; investigated anomalies; and resolved incidents. The command centers were distributed across continents, and acted as back-ups for each other.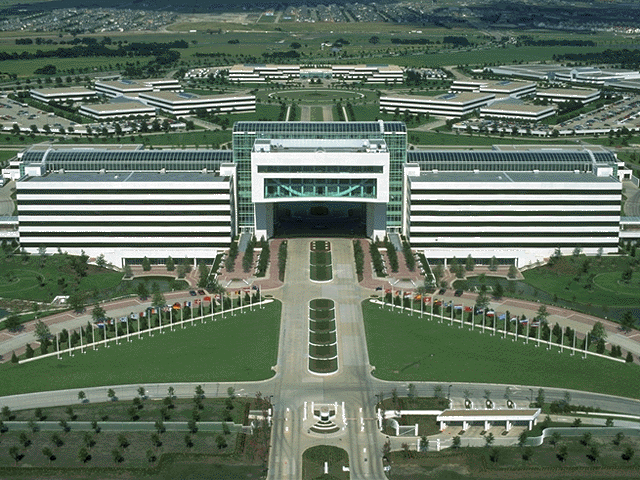 The EDS headquarters campus, in Plano, Texas, consisted of 25 buildings providing 2.3 million square feet (210,000 m
2
) of floor space. The campus included four Tier-IV data centers, a command center, four clusters of office buildings, a fitness center, a service station, four helipads and a hanger.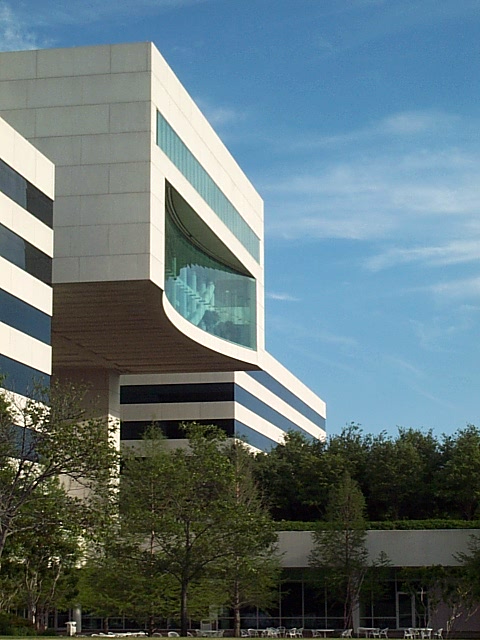 A profile view of the iconic architectural feature of EDS Centre: a four story building suspended five stories above ground, which formed a bridge between other buildings in the EDS Centre cluster of buildings. This building housed visitor reception, customer briefing rooms, the corporate boardroom, and some executive offices.
Corporate History
EDS was founded in 1962 in Dallas by Ross Perot. Perot had a notably successful sales career at IBM, and had proposed that the company expand into operating the computer systems they sold. When IBM management indicated it wasn't interested in what would become the technology services industry, Perot left and formed his own firm.
Perot had observed that companies didn't know how to operate their computer systems effectively, or didn't have the scale to do so. Hardware and software suppliers sold products to businesses on the basis of their features. Constructing integrated technology systems that served the business needs of the organization out of these disparate technology parts became more and more crucial to businesses. EDS' expertise at technology systems integration and operation quickly led the company to abundant success.
As business became more IT-intensive, EDS was well positioned. The company grew spectacularly, winning many record-scale contracts.
In the 1980s, General Motors, then the largest company in the world, decided its strategy would be to become technology-centric. Perot agreed to EDS becoming a General Motors subsidiary. All of GM's computing and communications technology became EDS owned and operated. EDS' size tripled in one year. Unfortunately, GM's technology-centric strategy did not cure its woes, and in mid-1990's, GM spun-off EDS and its other technology acquisitions to help offset pension debts.
EDS continued as an independent company (again) until it was acquired in 2008 by HP. In 2008–2009, market conditions, leadership mis-steps, and shifting alliances triggered a rapid cascade of acquisitions, in which all major IT services companies ended up in the hands of hardware vendors (IBM, HP, Dell, Xerox, etc.). The era of independent IT services firms ceased astonishingly rapidly.
Lines of Business
EDS' strength laid in building and operating IT systems that encompassed a scale and complexity that other organizations could not manage effectively. The company's services can be categorized as:
Systems design & construction
Systems operations
Business process operations
Technology & process consulting
Initially, the company helped customers operate their in-house data centers more effectively. This soon expanded into constructing and maintaining application and systems management software. Economies of scale led EDS to serving customer IT needs from very large scale EDS-owned data centers, thus inventing what is now called IT outsourcing. EDS also was an early pioneer of distributed computing, so that workload of its clients could be handled by remote data centers.
As information technology decentralized, EDS' scope of services expanded from the data center, to networks and desktops. The companies' services also expanded from operational technology management into application development, end user (help desk) support, and technology consulting. In the insurance business, EDS began operating business processes, such as claims processing. This lead to an expansion into other processes that were IT-centric and became the business process outsourcing (BPO) business. However, data center operations and applications management remained EDS' core business.
Scope of Operations
EDS' clients were global 1000 companies in all industries and governments (national and local). Some examples of industries that EDS served include: air transport, automotive manufacturing, defense, insurance, telecommunications, retail, utilities.
At one point, EDS' network was claimed to be the world's largest private network. (Such claims are vague and difficult to validate, though.) Similarly, its cluster of data centers on its Plano, Texas, campus were said to be the world's largest private data center at the time of their construction.
The company's application code portfolio was also of an extreme scale: 2.6 billion lines of code at one point. Most of this code was crucial to the operations of EDS' client's businesses, and under continual change.
EDS operated in 64 countries. The three largest countries (by 2007 employee count) were the USA, India, and the UK. Metropolitan areas where EDS had some of its larger operations included: Detroit, Michigan, USA; Dallas-Fort Worth, Texas, USA; São Paulo, Brazil; Washington, D.C., USA; Toronto, Ontario, Canada; Rome, Italy; Paris, France; Adelaide, Australia; Philadelphia, Pennsylvania, USA; Sydney, Australia; Blackpool, UK; Sacramento, California, USA; Tyneside, UK; and Barcelona, Spain.
Company Self-Description
The company's public description of itself in 2007 was:
EDS (NYSE: EDS) is a leading global technology services company delivering business solutions to its clients. EDS founded the information technology outsourcing industry 45 years ago. Today, EDS delivers a broad portfolio of information technology and business process outsourcing services to clients in the manufacturing, financial services, healthcare, communications, energy, transportation, and consumer and retail industries and to governments around the world.

As the CIO's trusted adviser, EDS provides the best solutions for executives to maximize return on their IT investments. Our deep industry knowledge enables clients to address issues specific to their businesses, and our unmatched global infrastructure provides the capacity and capability to help ensure we serve our clients extraordinarily well.

Our portfolio is built around innovative offerings in application maintenance and development, business process outsourcing, and infrastructure, including desktop services, hosting, storage, and networking. Our services are delivered on the EDS Agile Enterprise Platform. We use our next-generation global delivery system and EDS Best Shore strategy to ensure high-quality, cost-competitive services are provided from the optimal mix of onshore, near-shore, and offshore locations. This enables our clients to respond quickly to changing market dynamics and increase their competitiveness.

Did you know? EDS...

Manages more than 65,000 servers and supports more than 3 million desktops around the world.
Processes more than 200 million multi-channel customer contacts annually in 47 languages.
Provides HR services to more than 400 organizations in the United States, Canada, Europe, and Central and South America, and 33 million employees and participants worldwide.
Has help-desk agents who respond to 25 million support calls annually and serve clients in 32 languages.
Processes more than 1 billion health claims annually.
Contributed more than 72,500 volunteer hours in 2006 to support a variety of global community projects.
Is the title sponsor of the EDS Byron Nelson Championship, annually attracting golf's biggest and brightest stars and providing more dollars to charity than any other PGA event.
Leverages the collective resources of the EDS Agility Alliance companies (more than $200 billion in total annual revenue and $16 billion in combined R&D spending) to bring best-in-class solutions to our clients.